We want you to have an amazing holiday whilst staying at Kings Beck Barn, so we have listed some of our favourite days out, to help you plan your holiday. We have the North Norfolk coast, the Norfolk Broads, some wonderful stately homes and the best children's adventure parks all on our doorstep.
To help you plan your holiday, we have a tried to provide links to things that you can do, from day trips for family & friends, to our top suggestions for eating out. If you have any questions or need some further ideas to plan your holiday, please don't hesitate to give me a call or email and I will do my very best to help.
Norfolk Beaches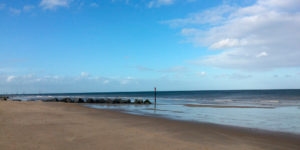 The North Norfolk coastline provides some beautiful sandy beaches. We especially love the beaches at West Runton, Mundseley, Sheringham (pictured), Overstrand, Cromer, and Waxham. If the weather isn't great, why not have a go at crabbing or take a boat trip to see the seals at Blakeney Point.
Norfolk Broads
If the weather permits, a trip to the Norfolk Broads is a must. The best way to explore the flora & fauna is from the water, so we suggest hiring a day boat, canoe or even a paddle board.
Norwich
The city of Norwich is a 30 minute drive from the barn and is filled with its hidden gems and cobbled streets. The Norwich Castle museum & Norwich Cathedral are well worth a visit.
Stately Homes & Gardens
We adore the National Trusts Blickling Hall, which is only 4 miles from us. Once home to Anne Boleyn, you can visit the beautiful historic house, or walk around the spectacular gardens. We also highly recommend a walk around the lake and you can grab a bite to eat at the Buckinghamshire Arms, which is just next door. Alternatively why not visit Febrigg Hall, Sheringham Park or the East Ruston Old Vicarage Gardens.
Family Days Out
For those with young children we suggest a visit to Roar The Dinosaur Park, where you can walk amongst the life size dinosaurs or BeWILDerwood the children's adventure park with its treehouses, zip-wires and jungle bridges. For those with little ones that love trains the Bure Valley steam train or North Norfolk railway are a must.
Golf & Tennis
If you're planning a game of golf during your stay we would recommend Royal Cromer, Sheringham Golf Club & Mundesley Golf Club. Aylsham Tennis Club has four floodlit hard courts with a pay & play facility.
Shopping
Locally we have the traditional market town of Aylsham (3 miles) which has pubs, restaurants, tea shops, an amazing deli, butchers & bakers and some lovely boutiques. Holt is another market town & is only 25 minutes by car and has some wonderful eateries and independent shops. All the major supermarkets are within 10 minutes drive from the barn and most deliver too.
Eating Out
We are lucky to have lots of great pubs and restaurants locally. All get very busy so we suggest you book at table. We highly recommend…
Local Walks & Wildlife
There are lots of lovely walks and footpaths that lead from the barn and with two well behaved dogs allowed, its the perfect base to explore the Norfolk countryside. Local walks include the Weavers Way, Marriotts Way & the Norfolk Coastal Path.
The farming business that own Kings Beck Barn is involved in the Higher Level Stewardship scheme which means that we undertake environmental management schemes for wildlife conservation, as well as the local landscape and environment. We have a number of bat, swallow & owl boxes near the barn so it's a great location for those interested in bird watching, with over 40 different bird species spotted (& plenty of deer!).
We hope that this helps you to plan your holiday, but if you have any questions, please don't hesitate to ask so that we can help you have the best possible holiday.